Planning for Our Future

Wonder what the activity is in the woods on St. Joseph Church property? We're having some logging done to raise some much needed funds for the parish. With this revenue and through additional donations, our hope is to fix the leaking church roof this spring. Those who wish to contribute toward this effort may do so by donating to our Building & Grounds Maintenance Fund either through the collection or our WeShare Online Giving site. This is the first step in making future improvements to our church interior.
---
Ordinary Time
Ordinary Time is celebrated in two segments: from the Monday following the Baptism of Our Lord up to Ash Wednesday; and from Pentecost Monday to the First Sunday of Advent. This makes it the largest season of the Liturgical Year. This first installment of Ordinary Time has anywhere from four to nine Sundays, depending on how early or late Easter falls in a given year. Its season's focus is Jesus' manifestation of Himself as God during His public ministry.

How is the Date of Easter Determined?
Easter falls on the first Sunday after the first full Moon that falls on or after March 21 (not, as commonly believed, the first Sunday after the first full Moon in Spring). The earliest possible date for Easter is March 22, and the latest possible date for it is April 25. Future dates for Easter are April 16, 2017, April 1, 2018, April 21, 2019.
---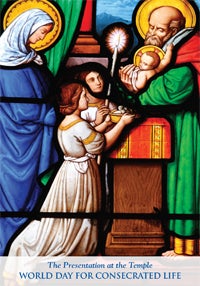 World Day For Consecrated Life 
February 2, 2017 (Celebrated in Parishes February 4-5)
In 1997, Pope Saint John Paul II instituted a day of prayer for women and men in consecrated life. This celebration is attached to the Feast of the Presentation of the Lord on February 2nd. This Feast is also known as Candlemas Day; the day on which candles are blessed symbolizing Christ who is the light of the world. So too, those in consecrated life are called to reflect the light of Jesus Christ to all peoples. The celebration of World Day for Consecrated Life is transferred to the following Sunday in order to highlight the gift of consecrated persons for the whole Church. Please pray for all those who have made commitments in the consecrated life, and be sure to thank them on their special day. May they continue to be inspired by Jesus Christ and respond generously to God's gift of their vocation. 
---
Feast of St. Blaise - February 3 (Blessing of Throats)

St. Blaise (also spelled Blase and Blasius) was a 3rd century physician who became Bishop of Sebaste, Armenia. This was the time of persecution under Licinius, so St. Blaise hid out in a cave on Mt. Argeus. He was captured and imprisoned, and from prison cured a boy who was choking to death on a fish bone. St. Blaise was beaten, had his flesh torn by wool combs, and was beheaded, martyred along with seven women. Because of the cure of the boy's throat when the boy was choking, St. Blaise is patron against troubles of the throat, and today our throats are blessed at Mass. St. Blaise is also the patron of veterinarians and against attacks of wild animals. He is represented in art as a Bishop holding two crossed candles, with wool combs, or in a cave surrounded by wild animals. Prayer & Blessing of Throats typically takes place as we pray through the intercession of St. Blaise that God delivers us from throat ailments and from every other evil. St. Joseph Parish will have the opportunity for blessings the weekend of February 4/5 at the end of each Mass.
---
CRHP ~ Men's Renewal 2017
Our first Men's Renewal will he held at here St. Joseph Church on Saturday, February 18, and Sunday, February 19. It is open to all men 18 years and older. The Men's Renewal is a two-day gathering of Christian Men (Catholic and non-Catholic) coming together in faith to deepen their relationship with Jesus Christ and other Christian men. There will be time for prayer, reflection, many laughs, fellowship, and good food. The weekend will begin at 8:00 a.m. on Saturday, February 18 and conclude with Mass on Saturday afternoon, February 19. An online registration form is available at https://goo.gl/5sUQ4m. You may also make a donation for this event through our WeShare Online Giving site (https://stjosephmantua.weshareonline.org). For more information, interested men may call Doug Englehart (330-958-2489) or Bill Custer (440-343-4579) or you may email  the Men's Renewal Team at MenOfStJosephMantua@gmail.com.
Click here to find out more about Christ Renews His Parish
---
Recycling Collection Bins at St. Joseph's

Keep used household items out of landfills. Bring your old printer cartridges, cell phones, computer accessories, compact fluorescent lightbulbs, and batteries (all but non-rechargeable alkaline) to the bins located in the All-Purpose Room. See the collection bin signage or contact Emma Kennedy (330-703-0677) for more information. A recycling collection date for larger household items will be scheduled in the future.
---
Save Time and Donate Online

Online Giving is now available for parishioners with WeShare, an easy and convenient way to save time and support the church. Donating is simple, safe, and completely secure.
With WeShare, you can set up a recurring weekly or monthly transaction using your checking, savings, or credit card account. You can decide how much to give to any collection and make changes any time, day or night. Plus, you can leave your checkbook at home on Sundays. Your much needed support continues even when you're away or unable to attend weekend Mass. In addition to our Sunday collection, there are options for all of the special collections held for our parish and diocese.
If you would like to enroll in Online Giving, please visit stjosephmantua.weshareonline.org or click on the Online Giving with Give Online with WeShare logo available on our home page. If you have any questions or concerns about the program or would like help setting up your account, please call our Parish Office at 330-274-2253.
"Give and gifts will be given to you; a good measure, packed together,
shaken down, and overflowing, will be poured into your lap.
For the measure with which you measure will in return be measured out to you."
--Luke 6:38